For those of you that want a TON of hot air at a very reasonable price...I have the answer! I do not have a cab enclosure and I needed something a little more rubust, so I decided to try one of the heaters from Summit Racing. For $250ish I ended up with more than I had hoped for and was also pleasantly surprised at how easy it was to install.
Here's the heater...
http://www.summitracing.com/parts/sum-991102-1/overview/
Here's the duct kit...
http://www.summitracing.com/parts/mar-mfa130
Here are the "Y" connectors needed to tap into the radiator hose...
Universal Parts, Inc. - Y-Fitting 1" Radiator Hose to 5/8" Heater Hose
You will also need 2 pieces of 2"x 1/8" strap (one 5 1/4" and one 6 1/2") plus 4ft of 5/8" heater hose, a hand full of various sized hose clamps, some wire and a 15 amp inline fuse.
Here's the kit...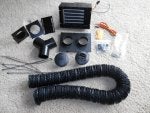 Mounted the heater under the drivers seat. No need to drill anything on the Viking, as there are plenty of holes right where you need them in the seat support. You will have to drill 7 holes total in the two flat bar pieces so you can mount the heater...
Tapped into the 1" radiator hose supply side under the center seat and then the return line from the core was routed over to the radiator return line under the passenger seat...
Used a 3" hole saw and then mounted the vents under the driver's and passenger's seats...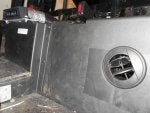 Here's the switch I ended up with (not the one it comes with). I also added a water temp gauge for fun too...still waiting on the sending unit adapter though. Pay no attention to the outside air temp, I had a drop light hanging close to the sending unit....it was reading 120 something earlier
You can see where I ran the ducting in the other photos. You will need to run the the passenger's duct under the airbox and you will see a hole in the skid plate. I added a small piece of that 3" white plastic drain pipe you can get at Home Depot. This will protect the duct from the sticks and stuff that might rip it there. FYI: the 3" duct fits perfectly over the pipe!
Ran the wires and bled the system. IMPORTANT: While researching this, this biggest complaint and reason for lack of heat is because of air trapped in the system. It's not that difficult to bleed the air and JBS has put out a great video on how to do this...do it EXACTLY how this video shows and you will have bo problems... [video=youtube;g0lszje5waU]https://www.youtube.com/watch?v=g0lszje5waU[/video]
After all this, I fired her up and WOW! This thing BLOWS a TON of HOT air! The reason I put the vents under the seats is because, without an enclosure, I wanted to be able to throw a blanket over our laps and let it hang to the floor...which would trap the heat. This should keep enough heat in there to at least take the edge off. I have not taken it for a ride yet and I know that it's going to be like driving my truck with the heat on and windows down. But I can tell you this...you cannot hold your hands over the vents for very long because it gets WAY too hot! I was so impressed that I added another rectangular vent under the center seat (seen in photos). Now I'm thinking might order and additional duct kit and run a duct under the center tunnel so I can put some vents under the dash blowing directly on the us.
This heater puts out an amazing 260cfm / 28,000BTU's. Once installed, the only thing you see are the vents and the heater switch. You can do the whole thing for right at $250ish and again...it is not a difficult install. You will spend more time taking all the stuff off to get to the area needed than anything else. If you want even more heat, Summit has a larger version as well...
http://www.summitracing.com/parts/sum-991106/overview/
In short...I HIGHLY reccommend this unit! And for those of you with cab enclosures...this will toast your marshmallows! This puts out almost twice as many BTU's as Viking specific heaters for about a $100 less and you see nothing but the vents and heater switch. You can expand and run ducts and vents to better suit your own needs but you do have to put your own kit together. I'll post some pointers and more detailed stuff later. Now I just have to wait for my custom water temp gauge and sending unit adapter and I can finish it up.
PS: See post #3 in this thread for tips, pointers and additional info.